THROUGH THE EYES OF THE SHEPHERDS                                                 December 2022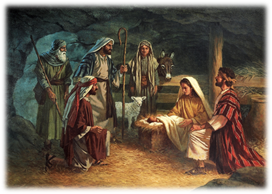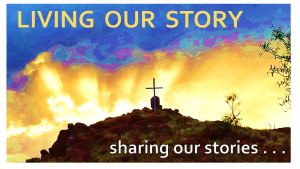 Dear Brothers and Sisters
Luke's story of the birth of Jesus is very brief, just two verses in fact (Luke 1: 6-7):
We read that Mary and Joseph travel to Bethlehem, and
6 While they were there, the time came for the baby to be born, 7 and she gave birth to her firstborn, a son. She wrapped him in cloths and placed him in a manger, because there was no guest room available for them.
Luke then takes a full 12 verses to tell the story of the shepherds.  This gets my attention!
What was so important about the shepherds and their story?  Why did Luke take just 2 verses to report the birth and then 12 verses to tell the story of the shepherds' response? He apparently wants us to see the birth of Jesus through the eyes of the shepherds.  Well, that's what it looks like to me anyway.  So' let's look at it through the eyes of the shepherds.
At first the shepherds were terrified, but as the Angels spoke soothing words and sang songs of glory, the terror and fear gave way to wonder.  And then these simple labourers, whose very ordinary job was to care for some dumb animals, let the wonder give birth to action – the simple action of going to Bethlehem to see the child and his parents.  Well, after seeing the baby, they couldn't contain their joy, so they told everyone they knew about Jesus; and then they returned to the sheep, glorifying and praising God.  Back on the hillside with their sheep, it might have looked like nothing had changed, same-old-same-old.  But everything had changed.
Sometimes we are frightened about things we don't understand, aren't we?  Maybe there has even been some fear and trepidation for you this year.  There has been a great deal of uncertainty for most people as we have negotiated our way through the various chapters of the CoVid Pandemic, with social distancing, ongoing hygiene and hand-cleaning, lock-downs, border closures, isolations, quarantine, illness, in some cases death of people we know and love, pressure on relationships; and so it goes on.  It has been a trying time and a frightening time for many.
As for myself, I have done my best to follow medical advice, to strengthen my immune system and to minimise my exposure to the virus.  That is all I can do.  And apart from that I have been aware of God's presence and have given my concerns to God in prayer.  "Don't be afraid Tony, there is good news and great joy – God is with us, Christ is with us – in all the valleys and on all the mountains – we are not alone.  God has the situation in hand; and all will be well."
There has been much cause to reflect on the presence of Christ among us, this past year. Like the shepherds of old who were reassured that they need not fear, just sitting on the hillside (or just sitting in front of the television) is no longer good enough.  When we become aware of the presence of Christ in our midst, we are moved to action.  That action mirrors the action of the shepherds – let's get out there and see for ourselves; and then let's tell other people the good news that Christ is indeed with us and raise our voices in praise to the One we call God.
Is the story that Luke tells us just about events of long ago?  Or does it speak into the lives of people even today?  What do you think?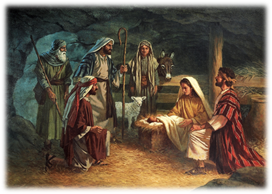 Whenever we hear or read a story about Jesus, it is not just a story of something that happened 'once-upon-a-time".  A good storyteller draws us in and offers us a way of looking at that story through someone else's eyes so we can relate and engage with the truth that is carried in the story.  Luke is a good storyteller.  He draws us in.
I propose that the story of the shepherds' reaction to Jesus' birth is a story about being human in the presence of God.  Think about it:  Fear; followed by reassurance; then wonder; then action; then sharing the joy; and then praising God.  Could it be that Dr Luke is showing us, through the eyes of the shepherds, that the birth of Jesus speaks directly into the lives of every person who is prepared to look and listen?  And then, even though it might look like nothing has really changed in our lives, once we meet the Christ in the world and have felt his presence, everything has changed, and life will never be the same again?  Could he be showing us that there is a way, through faith, that can transform fear into wonder, action, and praise?
This Christmas I pray that all the things that may have caused you anxiety or distress or fear in 2022, you might be able to hand to God in prayer, so they can be lifted off you and be replaced by the wonder of God's grace and provision.
God is good . . . all the time!  All the time . . . God is . . . . . . .
My prayer continues for you, that as you approach the celebration of the birth of Jesus, you might again discover in this simple story of the birth of a child, the miracle of life itself and the beauty and grace that has surrounded you since before you were even born.  May you rediscover the joy of the Christ-child and might you see in everyone you meet a spark of that Christ-child within them, which is connected to the spark of the Christ within you.  May this fill your heart to overflowing so that you are moved to tell people in words and actions that they are beloved of the creator of the Universe; that they are precious beyond measure and worthy of love, care and respect  May this move you to praise; and bring glory to God for the simple joy of being alive, being human and belonging to this ordinary and miraculous world of ours.
Go well my friends.  Christ be with you in all you do.  Happy Christmas.
Grace and Peace.     The best is yet to come,
Rev Tony Goodluck    (Nangarridj)
Moderator      Northern Synod      Uniting Church in Australia                                                  Mob: 0498 680 215      Email: tony.goodluck@ns.uca.org.au
Living on Larrakia land      Born on Jaitmatang land                                                                  Raised on Jaitmatang, Woiworunn, Maarku and Larrakia land