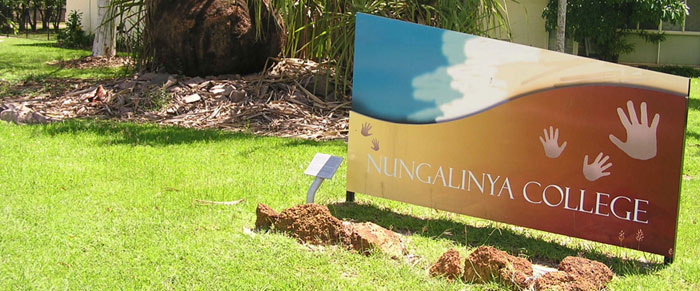 Nungalinya College is an Adult Education College for Aboriginal and Torres Strait Islanders. Provided by the Anglican, Catholic and Uniting Churches, it is also supported by other churches as well as Aboriginal and Islander communities.
The College is incorporated, and is a registered Private Provider of Vocational Education and Training and conducts TAFE accredited courses. The courses, which are provided, are:
The Certificate in Theology
The Associate Diploma of Theology
The Advanced Diploma of Ministry
The Certificate in Community Organising
The Certificate in Community and Family Services
The Certificate in Textile Art (Aboriginal Enterprise)
Cross-cultural awareness courses for non-Indigenous people.
In December 1998 Nungalinya College achieved the national status of a Quality Endorsed Training Organisation and was awarded the nationally recognised logo.
The College is located in suburban Darwin. It is able to assist and train Indigenous people who come from all over Australia. The College has been able to recognise the learning styles of Indigenous Australians.
---
Contact Details
72 Dripstone Road, Nakara NT 0810
Phone: (08) 8920 7500
Fax: (08) 8927 2332
Email: info@nungalinya.edu.au
Webpage: www.nungalinya.edu.au

Principal 
Mr Ben van Gelderen
PO Box 40371 Casuarina NT 0811
Phone: (08) 8920 7500
Fax: (08) 8927 2332
Email: bvangelderen@nungalinya.edu.au
UCA Lecturers
Dean of UCA Students
Scott Charlesworth
PO Box 40371 Casuarina NT 0811
Phone: (08) 8920 7500
Mobile: 0408 752 082
Email: scharlesworth@nungalinya.edu.au
Rev Michelle Cook
Phone: (08) 8920 7500
Mobile: 0472 137 020
Email: mcook@nungalinya.edu.au
Mr Amos Leana
Phone: (08) 8920 7500
Mobile: 0474 490 752
Email: aleana@nungalinya.edu.au