Vaccine Roll – Out
(adapted from Australia Government, Department of Health)
From Monday 22 February 2021, COVID-19 vaccinations will begin in Australia.
The Prime Minister, the Chief Medical Officer, and the Chief Nursing and Midwifery Officer, officially launched Australia's vaccination program today.
The first people to receive the vaccines will be priority groups who are at a higher risk of COVID-19.
They include:
quarantine and border workers
frontline healthcare workers
aged and disability care residents and staff.
There will be vaccination clinics set up at hospitals in each state and territory, and in aged care and disability care facilities across Australia. The number of locations will increase as more doses arrive in the country.
To tell people when they can get the vaccine, the Government has developed the COVID-19 vaccine eligibility checker.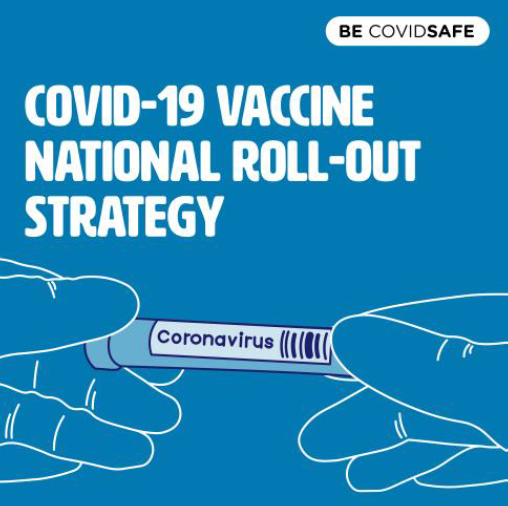 The Phases of Roll Out
Beginning in February, the vaccine will be given to those who need it the most first. The phases will be:
Phase 1a
Quarantine and border workers
 Frontline at-risk health care workers, including staff in GP respiratory clinics and COVID-19
testing facilities, ambulance staff, paramedics, ICU and emergency department staff, and
clinical and ancillary support staff
 Residential aged care and disability care staff
 Residential aged care and disability care residents and their carers.
Phase 2b
Adults over 70 years
 All other health care workers
 Begin vaccinating Aboriginal and Torres Strait Islander adults
 People with an underlying medical condition, including those with a disability
 Critical and high-risk workers including defence, police, fire, emergency services and meat
processing workers.
Phase 2a
Adults over 50 years
 Continue vaccinating Aboriginal and Torres Strait Islander adults
 Other critical and high risk workers.
Phase 2b
Remaining people over 16 years
 Catch up any unvaccinated Australians from previous phases.
Phase 3
People under 16 years if recommended.
Letter from Dr Lucas De Toca, Acting First Assistant Secretary
MORE INFORMATION:
Australian Government, Department of Health:
https://www.health.gov.au/initiatives-and-programs/covid-19-vaccines?utm_source=health.gov.au&utm_medium=redirect&utm_campaign=digital_transformation&utm_content=covid19-vaccines
---
What is CoVID-19?
COVID-19 is a respiratory illness caused by a new virus. Symptoms include fever, coughing, sore throat and shortness of breath. The virus can spread from person to person, but good hygiene can prevent infection.
What steps should you take to prevent infection?
• Stay home from work and school if you are unwell (e.g. don't go shopping or use public transport until you are well).
• Avoid contact with others if you are sick (particularly vulnerable people such as older persons and people with chronic medical conditions).
• If others are sick, keep your distance from them as much as possible (at least 1.5 metres), avoid close contact such as shaking hands, hugging, kissing.
• Wash hands regularly, particularly after going to the toilet, blowing your nose or handling used tissues.
• Cover coughs and sneezes with a clean tissue or your elbow.
• Avoid touching your eyes, nose and mouth, or handling food, until you have washed your hands.
• Wipe down frequently touched surfaces.
Helpful Links & Resources
Australian Government – Department of Health
Northern Territory Government – Department of Health
Coronavirus (CoVID-19) Updates
World Health Organization