From the Moderator
"Strengthen the feeble hands, steady the knees that give way; say to those with fearful hearts, "Be strong, do not fear; your God will come, he will come with vengeance; with divine retribution he will come to save you." (Isaiah 35:3-4)
Having a positive heart attitude and being able to see problems from a different perspective are the keys to be a strong Christian. By having a positive heart, we will avoid worry, fear, disappointment, anxiety, hopelessness and so on. With having a positive heart, people will live life with enthusiasm. Life in this world is coloured by various problems, but people who have the passion have the strength to face it.
"The human spirit can endure in sickness, but a crushed spirit who can bear?" (Proverbs 18:14)
How do we stay exciting in living life? Turn your eyes only to God, have faith in every promise of His word, and diligently look forward to God's help. Isaiah says, "but those who hope in the LORD will renew their strength. They will soar on wings like eagles; they will run and not grow weary, they will walk and not be faint."(40:31) We become strong people when we realise that in God there is always a way out of every problem we experience, and with God we are certainly able to endure all things (Philippians 4:13).
It is not only a way to exercise our faith, but also an opportunity for us to experience the fulfilment of God's promises. We must face every problem calmly and stay firm in the promise of God's word. "You will keep in perfect peace those whose minds are steadfast, because they trust in you." (Isaiah 26: 3).
Be a strong Christian in all situations by keeping your heart focused not on the magnitude of the problem, but on the magnitude of God's power.
Amen

Rev Thresi Mauboy Wohangara
---
From the General Secretary
Places of Worship – NT COVID-19 Community Business and Organisation Checklist
By now all congregations that have completed their COVID-19 Safety Checklist on-line as well as supplying the Northern Synod office with their Actual Safety Plan will open for worship service this Sunday. Thank you to all your great work in ensuring that we follow the NTG advice on STAGE 2 'Roadmap to Recovery' with easing of restriction within Places of Worship.
Again, let me remind you of your responsibility with the education of congregation members of proper care during stage 2. Here is the on-line link again online COVID-19 checklist
Please refer to last week comprehensive advice. This is a repeat of the summary from last week.
To summarise, the checklist is divided into three topics: Workplace Physical Distancing Measures, Hygiene Measures, Monitoring and Identification of Unwell Staff. Under each heading there are questions that allow for a YES and NO answer (with the occasional opportunity to answer THIS IS NOT RELEVANT). Under each heading, there is a question that asks you to list measures. The questions and headings you see are those shown online and are numbered for ease.
Prior to submission, save a copy of your responses to the checklist in a separate document and send this to the Synod Office (see contact details below) as soon as you can.
We ask that you provide a layout of your place of worship along with an estimate of the average attendance to worship to the Synod Office (contact details below) as soon as you are able.
We ask you to be a part of video conferencing meetings providing education and guidance on the topics of the checklist. We will send invitations to these meetings next week. These meetings will likely occur on the week of 18 May with the day to be advised. They will likely occur on a weekly basis.
In closing, we remind you that you must take responsibility for your place of worship to help address the health risks to your congregation during these times of the COVID-19 Coronavirus under the expert medical advice given by authoritative sources and the NT and Federal Governments.
Some congregations have decided not to open their church properties this Sunday until later and that's ok.
For those congregation who will begin service this Sunday please be vigilant.
You must NOT exceed the number of people inside the chapel throughout the 2 hours limit and beyond the maximum number allowed as per your designated meeting space. You must maintain the 1.5m rule. The two hours include before, during, after service chats,
morning teatime if gathering inside the building. It is advisable to move outside as soon as possible at the completion of the worship service.
Please do not sing in large group as a Choir if are unable to maintain the physical distancing. There are some medical reports on the danger of singing in large group, but please maintain the distance and/or limit using many songs, hymns with modified singing formats in worship. Please exercise control when distributing communion and adhering to the hygiene practices. All usual practices on Sunday must now be referenced and aligned with you COVID-19 safety plan.
If an Inspector visits your site for a spot check, please assist them and be helpful and corporative. Have a copy of the plan that you have supplied the Synod Office handy to show them if requested. Refer them to the appropriate leaders of the congregation such as the Minister/Pastor/Lay Leader/Chairperson or Council Secretary. If they wish to speak to the NS Official Representative, then through your Minister please give them my mobile number to contact me or contact the Synod Communication Officer Liusem through his email.
Please feel free to contact the synod office on admin@ns.uca.org.au 08 8982 3400 or Liusem on Liusem.Mauboy@ns.uca.org.au if you have further questions.
In Christ,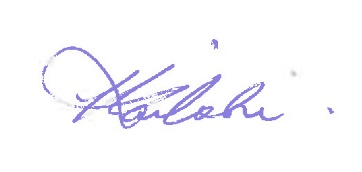 Rev Haloti T Kailahi