FROM THE MODERATOR
Two weeks ago, we celebrated Easter, but it seemed a long time ago, because all our attention is focused on the problems we face today with COVID-19. All of us continue to feel hopelessly anxious, especially since the government is still suggesting keeping our distance and the lockdown has not changed.
The two followers returning to Emmaus at first missed the significance of history's greatest event because they were too focused on their disappointments and problems. In fact, they didn't recognize Jesus when he was walking beside them. To compound the problem, they were walking in the wrong direction-away from the fellowship of believers in Jerusalem. The news about Jesus' crucifixion had spread throughout Jerusalem. These two followers from Emmaus had been counting on Jesus to redeem Israel that is to rescue the nation from its enemies. They didn't realize that the Messiah had come to redeem people from slavery of sin. When Jesus died, they lost all hope; they didn't understand that Jesus' death offered the greatest hope possible.
Jesus is not only a God of love, but also omnipresent, He is present when the two disciples are conversing and exchanging ideas about Him. Jesus is not only present, but present because he wants to walk with them (Luke 24:15). As disciples of Christ, we must realize and believe that He is Emmanuel, "God with us". Jesus is always present in every community of believers. He is present in every time we talk and exchange ideas about HIM. Jesus is always present to everyone who calls out His name. He is even willing to walk along with us through difficult times, and through our fears and problems including what we experience today with the pandemic. Amen
Be not dismayed whate'er betide
God will take care of you
Beneath His wings of love abide
God will take care of you
God will take care of you
Through every day, o'er all the way
He will take care of you
God will take care of you
No matter what may be the test
God will take care of you
Lean, weary one, upon His breast
God will take care of you
God will take care of you
Through every day, o'er all the way
He will take care of you
God will take care of you
Songwriters: Jones Bobby L/ Martin C D/ Martin W S

Rev Thresi Mauboy Wohangara.
---
FROM THE GENERAL SECRETARY
Thank you for continuing to observe and practice the advice by Government and Health Care officials. There is no change from last week as far as congregations are concerned with the usage of places of worship and other measures. Please remind all members including those in remote communities that despite our needs to gather physically as the body of Christ, we MUST NOT act out of frustration to defy the law nor claim that we will be saved by Jesus. We have so many vulnerable members and people need support and explanation. The prohibition of gathering as a church community physically will be back, but for now we are worshipping in a new way.
Thanks to many people who have utilised the donation and contribution options on our website. Individual congregations are encouraged to contact its members directly and advise them of the most appropriate way for their missional gifts giving.
We are working closely with other Synods and UCA Assembly in making sure that we provide updates in information to you on things that are important to UCA. Regardless of closure of buildings, the worshipping community fellowship with WORD, LIFE and WITNESS continue, and Praise God for your dedication. You are still continuing as Prayer Warriors and caring for each other. Thank you from the synod office for your prayers and we are praying for you too. I am aware that this is also a very busy time for many people in the area of pastoral care and meetings. Just remember we are all on this bridge journey together.
We are exploring with governments of our eligibility through Job Keeper programs and other funding options. A special meeting of the Finance and Property Services (FAPS) committee was held this week to discuss the financial impact of the current situation in our synod. At this stage, we will continue to support all our people including staffs, Ministers, Pastors in specified ministries. We are grateful for the dedication and good stewardship of FAPS members and leaders of our congregations through church councils and synod. The General Secretary, Chief Financial Officer and Presbytery Minister will contact each congregation over the next fortnight to explore with congregation leaders some practical ways and opportunities for more collaboration.
Wishing you a great weekend of ANZAC celebration. Feel free to stay in touch with the office on 08 8982 3400 or email admin@ns.uca.org.au if you have further questions.
In Christ,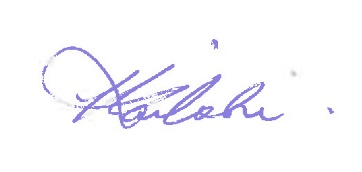 Rev Haloti T Kailahi