From the Moderator
UNITING CHURCH IN AUSTRALIA 43RD ANNIVERSARY
21st June 2020
---
Greetings in the name of Christ,
God calls His people to come into fellowship with Him, this call is understood as a concrete manifestation of his task to bring humanity into salvation from the first coming of Jesus to his second. So, the task the church has been called to carry out is not by the church's own will, but a task that has been entrusted to the church by God. For this task, the church is urged to do God's work through our main calling, which is fellowship, to bear witness and to serve.
As Christians we learn and know the law of love. In the Bible many times, we are called upon and reminded of this important law of love. Knowing this, we as believers are invited to love one another, forgive, and help our neighbours as best as we can. In other words, we must have the desire and action to help others. Helping others is tantamount to serving God as well. One of the many reasons why God give us strength is to serve others – those who are homeless, hopeless, and jobless. The word of God says: whoever helps the less fortunate does not only do it for themselves, but also for me.
During these 43 years of the UCA, we reflect as a church, on all the global matters that have occurred. We have found ourselves in circumstances that are constantly changing and are out of our control – bush fires, a global pandemic, and now the fight for reconciliation. God often finds us in times of struggle, but we can get through our troubles together as witnesses of Christ.
Thank you to all the ministers, pastors, lay-preachers, church councils and all the members in the Northern Synod for your faithfulness in God to serve in every situation. Trust that God will sustain us as pilgrim people.
Happy anniversary!

Rev. Thresi Mauboy Wohangara
From General Secretary
COVID-19 Update – 19 June 2020
Greetings everyone. You have heard the announcement that the last coronavirus case in the NT was on the 21st May. This is good news indeed. The Chief also announced the opening of our borders on the 17th July.
Now you have more freedom with the management of church properties and its usage. Please continue to exercise strict control according to your Safety Plan. Please pay attention to both Northern Territory Government and Federal Government instructions through media announcements and updates on their respective websites:
We will be able to start organising relevant Synod and Presbytery committee meetings face to face from July onward and not just by video conferencing. We have learnt so much from the last four months about how to be a church and stay connected during COVID-19. We became more creative and resourceful through the usage of on-line platforms for virtual meetings, worship services and pastoral care ministry. COVID-19 brought opportunities for the church to review our practices. We are more willing now than ever to explore new ways of being a church through creative worship service styles, new methodology of community engagement, new ways of conducting meetings, use of technology and not being afraid to try new things. Let us continue to explore boundless possibilities that have been presented to us by COVID-19 in being the church of Jesus Christ for renewal and reconciliation.
With the excitement of coming back together and meeting each other face to face on Sunday and during the week as the Community of Christ, let us pause. Pray and remember the architects and all the people of UCA in our anniversary celebration for this unique Australian church of Jesus Christ that was formed on the 22nd June 1977. We give thanks to God.
I thank you again for acting so responsibly as we continue to worship our Living God in Jesus Christ within our communities. Stay safe and look out for each other and be kind to one another.
Please feel free to contact the synod office on admin@ns.uca.org.au 08 8982 3400 or Liusem on Liusem.Mauboy@ns.uca.org.au if you have further questions.
In Christ,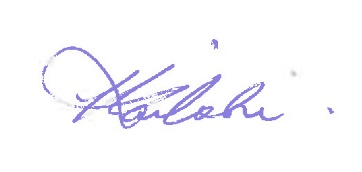 Rev. Haloti T Kailahi